DreamHost Review
I am so exited to do this Dreamhost Review. DreamHost may not be as mainstream as GoDaddy and CrazyDomains among the common user, but rest assured, it's a very well-known brand among the geek and the nerd developers, designers and digital marketers.
Impressively, they've grown to host more than 1.5 million websites and have over 400.000 customers even though they were formed in 1996.
There are many good reviews and endorsements that you can find online about DreamHost. One of those endorsements would be from WordPress while they display other options, they also recommend Bluehost, which is a huge positive if you ask me. You can read more on the wordpress website if you click here.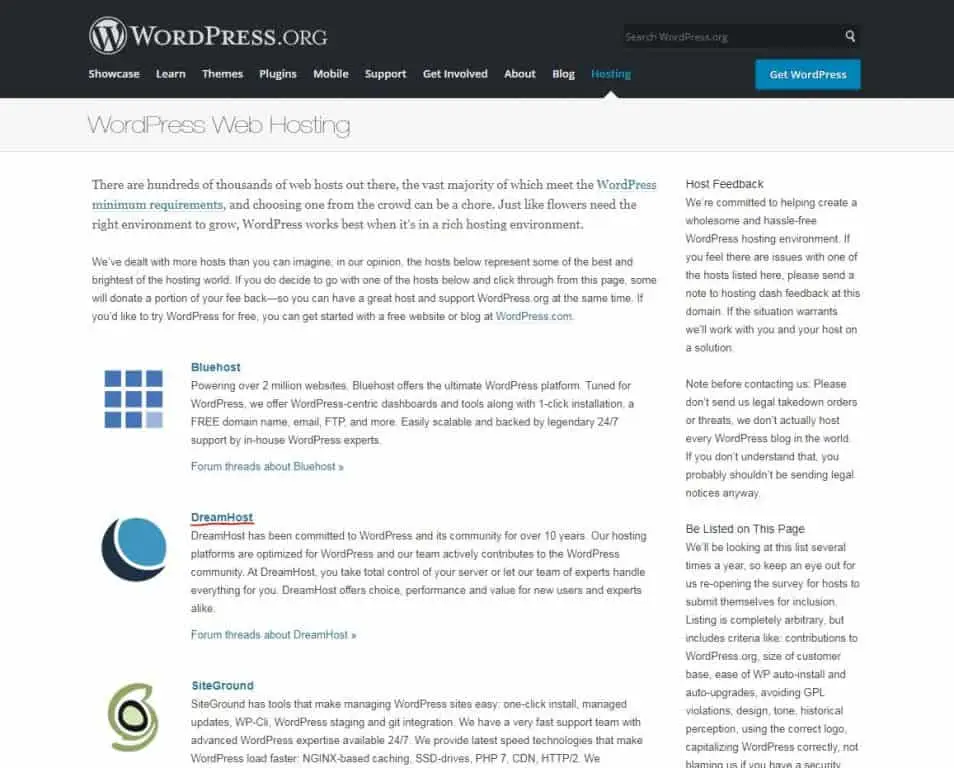 For their very small price tag, they offer evrything that you really need: unlimited storage and bandwidth, backups, 24-hour support (not always livechat but quick replies to emails) and even free SSL certificates and CDN services from cloudflare. What more could you ask for?
So with the very small price tag, do they lack any features? And how does the DreamHost servers perform?
I am going to answer all of these questions and more in this DreamHost review so you can read all about their pros, cons, pricing and when (and when not) to use them.
Try DreamHost risk-free for 97 days
How confident do they have to be in order to offer a 3 month refund policy?
What Products DreamHost Offer?
As their offering is not limited to shared hosting plans, let's review what other services you can get with DreamHost.
Alongside hosting packages, you can get domain names at DreamHost. Choose from over 400 TLDs (like .com, .org, .net) or more exotic extensions (like .club or .guru). Country specific TLDs such as .es, .fr, .co.uk or .de are also available. A .com domain name is $15.99 at renewal.
DreamHost's shared hosting will give you a lot for your money, they cost $3.95 a month for the 1-site plan or $9.95 for the Unlimited tier – straightforward pricing. This type of hosting is great to start, but if your project grows a lot (e.g. more than 200,000 visitors a month), you'll need to upgrade.
You can imagine a Virtual Private Server (VPS) as a shared hosting server that has been divided into smaller servers. This means that you can configure it to your needs. Therefore, your website will be hosted independently from other clients' – the resources aren't shared either. VPS hosting plans at DreamHost start at $13.75 a month and can go all the way up to $110 a month.
But, if your website gets so big that you need your own server, that's when you should consider getting a dedicated account – beware, these are a bit more expensive. Dedicated hosting at DreamHost starts at $149 per month.
That's not all, DreamHost also offers cloud hosting. Imagine this as a series of interconnected servers that host your website. This solution is ideal for those expecting peaks of traffic as more resources (e.g. RAM and CPU) can be added as you need them. Figuring out how much will you pay it's tricky as the price depends on the resources (e.g. RAM or storage) that you need.
On top of all that, they also offer WordPress hosting plans – they have special WordPress packages for their shared and VPS hosting. If you'd like automatic updates, staging areas and dedicated WordPress support, you can opt-in for a Managed WordPress account. Shared WordPress hosting starts at $3.95 a month, VPS at $13.75 and Managed WordPress at $16.95 (for one site only).
However, if you don't want any technical hassle and just want to easily launch a simple website, they offer a website builder too. It seems very cheap (starts at $4.95).
The focus of this DreamHost review is their shared hosting plans, so from now on, I'll be referencing those.
DreamHost Review: Pricing
What Do Their Shared Plans Include?
Starter
Unlimited
Websites
1
Unlimited
Support
24-hour

Chat and ticket (email) *

24-hour

Chat and ticket (email) *

Storage
50 GB
Unlimited
Max. files amount (inodes)
Unlimited
Unlimited
Bandwidth
Unlimited
Unlimited
Databases
6
Unlimited
SSL certificate
Included
Included
Email accounts
$1.67 a month for 25 GB
Included
Backup
8 backups
8 backups
Monthly pricing
$4.95 a month
$10.95 a month
Annual price
$3.95 a month
$9.95 a month
3-year deals
$2.59 a month
$7.95 a month
Chat support is limited to 5:30AM to 9:00PM Pacific Time. DreamHost has an 'Unlimited Policy' and they don't accept certain projects like file distribution sites.
I really appreciate that DreamHost's pricing and plan structure are both transparent and simple. They only have 2 shared plans which come with most of the basics you'll need – no aggressive and expensive upsells.
Let's check out what plan will you need:
The Shared Starter plan is limited to 1 website, so if you are only looking to host 1 site, this is your best option. Be aware that if you need email accounts, those are paid separately in this plan ($1.67 a month extra) – a fair price if you ask me. The only other limitation are databases (6) and 50 GB of storage – but this is 10 times more than what you will need for a all small to medium websites.
To host more than 1 website you'll need the (very affordable) Shared Unlimited package. This one includes email accounts, unlimited storage and databases too. There aren't any other features added as the basic plan is already pretty generous with FTP accounts, bandwidth and so on.
There are also optimized pricing plans for WooCommerce users.
DreamHost Review: Performance Pros & Cons
Sure, DreamHost is pretty inexpensive and offers quite a lot, but how they perform and what features are they missing? *Spoiler Alert*: they're missing a couple of advanced features.
Let me help you out:
Pros
Cons

Affordable: DreamHost is one of the cheapest shared hosting providers around.
Performance: In our tests (uptime & speed), DreamHost performed really well – more on this below.
Unlimited: All accounts come with truly unlimited bandwidth and generous storage. Unlike others, no inodes limitation.
Modern-looking backend: Their backend looks very contemporary. It may take a bit of time to master for those used to cPanel dashboards.
No upsells and upgrades: So many competitors push you into buying add-ons with aggressive pitches. DreamHost is a breath of fresh air.
97-day money-back guarantee: They'll refund you even if, after 97 days (yes 97) of using them, you are unhappy with their service.
Support: They offer live chat and ticket support, which do respond in about 30 mins.

Not many 1-click installs: They only have automated installations for a few CMSs (e.g. WordPress).
Only US-location: They don't have servers outside the US. These may not be ideal for users from other regions (e.g. Europe or Asia).
No email account in the starter plan: Email accounts are paid separately for the Shared Starter plan, but they are fairly affordable too.
Some advanced features missing: Some functions for larger projects seem to be missing. For instance, no staging, no built-in caching or advanced backup solutions. But this is not really needed for everyday websites.
Support: It doesn't offer live chat 24 hours a day, only from 5:30 AM to 9:30 PM Pacific time.
When to Use DreamHost's Hosting?
Well, a lot of site owners should think about using DreamHost. It combines both low prices and high quality, something that's very difficult to find these days in the hosting world.
I would say that small projects (e.g. a dentist's site) looking for the best value for their money should consider DreamHost.
However, larger sites could find a good partner in DreamHost's shared hosting too. It has enough speed, good support and reliable uptime for avid bloggers and hardcore site developers.
Even if it's not PCI compliant out-of-the-box, DreamHost supports this technology – you could make it happen geeking around. This is obviously a massive pro for ecommerce projects.
When Not to Use DreamHost's hosting?
But there are a few cases where I would not recommend DreamHost.
As they don't have servers outside the US, if your audience doesn't come from North America, it's probably not the best choice.
Finally, tech-savvy users like developers or agencies may miss some advanced features like staging areas, integrated caching system or pre-installed Git repositories. If you fancy having these, then this is not your cup of tea.
DreamHost Review: Shared Hosting Details
| criterion | rating | comments |
| --- | --- | --- |
| Ease of Use | 4.5 | DreamHost's control panel looks modern and has a clean design. You can access all the options from the left sidebar. It's not cPanel-based but I really enjoy this interface. |
| Domain Names | 4 | A free domain name registration is offered for annual (or longer) plans. This is only available for the first year, from then on a .com domain will cost you $15.95. The available domain names are: .com, .net, .org, .info, .global, .blog, .shop, or .club. With the Shared Starter plan you'll only be able to have 1 domain name and 5 subdomains, which are unlimited with the Share Unlimited plan. |
| Email Rating | 4 | Oddly enough, you won't have free email accounts with their Starter plan (they start at $1.70 a month extra). With the Unlimited tier, you will be able to create and manage unlimited email accounts. Each email account size will be limited to 2GB max. |
| Databases | 5 | With DreamHost, you can create MySQL databases. With the Unlimited plan, you can create as many databases as you need. The Starter plan databases are limited to 6. Neither of the plans limits the database size, but you should "try to keep it no larger than a few GB in size". |
| Applications | 4 | They have their own scripts for easily installing a few popular CMSs like WordPress, Zen Cart or Joomla. They only have a few available. For example, popular CMSs like Drupal, Magento or PrestaShop seem to be missing. |
| Webspace Limit | 5 | With the Shared Starter plan, the storage is limited to 50 GB. The Unlimited won't cap your storage, but be aware that a fair usage policy is in place (e.g. no file sharing sites). * |
| Monthy Data Transfer Limit | 5 | The bandwidth isn't limited on any of DreamHost's shared hosting plans. However, you have to respect their Terms of Use (e.g. don't use your hosting as a backup device). |
| FTP Accounts and Secure FTP | 4.5 | FTP, SFTP and SSH access is possible. The Starter plan will allow you to have 6 of these and the Unlimited package won't limit it. |
| Server Location | 3 | DreamHost has data centers available in Virginia and Oregon. Not as many options as other competitors. |
| Security Features | 5 | Enabling SSL is free with DreamHost as they integrate with Let's Encrypt. They also offer SSH and SFTP access to enhance security. They support HTTP/2, the latest versions of PHP 7 and they have their own firewall. Multi-Factor-Authentication for your panel can be enabled too. Additional security options (e.g. malware scan) are offered via DreamShield, a paid security app developed by DreamHost themselves. |
| Server Speed | 4.5 | In our speed tests, DreamHost was one of the top-performing providers. DreamHost uses SSD drives, HTTP/2 and PHP 7 (faster). Unlike their WordPress plans (which start at $16.95), their Shared hosting doesn't have a server-side caching system built-in. |
| Uptime | 5 | In the tests I carried out, DreamHost got 99.99% uptime. DreamHost guarantees 100% uptime. – as far as I know, they are the only shared hosting provider offering this much. You can claim financial compensation if they don't deliver 100% (e.g. they have not announced mantainance downtime). |
| Backups | 3.5 | They keep a daily backup of all your files, and you'll have access to the last 8 backups. There's also a simple feature to create backups on-demand – it's easy-to-use, but it could have more options (e.g. select what folder to backup). Be aware that the backups you create are periodically removed and you need to download them. |
| CDN | 4 | Even if DreamHost doesn't include a CDN, you can add a third-party provider like Cloudflare from within their control panel. |
| Server Features | 4.5 | MySQL 5 and PHP 7.2 (and higher) are available from their panel. Additionally, you can also use other programming languages like Perl, Ruby and Python. Their servers aren't PCI compliant out-of-the-box, but with some technical knowledge, you can make it happen. |
| Refunds and Guarantees | 5 | DreamHost comes with a 97-day money-back guarantee, which is really impressive. Their Terms of Service state that they will compensate you if they don't provide 100% uptime, which is actually incredibly generous. |
| Assistance and Support | 4 | Their support is available via live chat (limmited to business hours) and ticket system (email). Phone support isn't offered. I've always felt that support agents were friendly and helpful. Their help materials are easy to follow, up-to-date and detailed. |
| Overall Rating | 4.5/5 | DreamHost is a reliable provider with a simple concept and delivers great value for your money. It lacks some advanced features like staging areas or pre-installed GIT repositories, but it's actually one of my favorite providers. |
* They have a truly unlimited policy (storage and bandwidth), but they do make some exceptions that seem to 'affect to less than 1% of the users'. Basically, they don't seem to want people abusing their Unlimited Policy (e.g. file distribution sites).
DreamHost Review: Performance Tests
Is DreamHost slow and/or have constant service interruptions?
Before you commit and leave your website's 'well-being' to a new hosting provider, you should check out their performance.
Of course, I don't expect you to have time to go and test 5 or 6 hosting providers over a number of weeks. To make your life easier, I've recently tested DreamHost's performance and benchmarked it against their competitors.
DreamHost Speed Test
No one wants their website to take ages to load. This can harm your user engagement metrics (e.g. conversion rate) and mess up your organic (search engines) rankings. And of course, a fast hosting provider is a fundamental player for your website to load quick.
| Test | Average Loading Time |
| --- | --- |
| 5 GTmetrix test | 2.5 s |
| 5 Pingdom test | 1.484 s |
| 5 PageSpeed Insights (Google) | 3.08 s |
With an average speed of 2.35 seconds, Dreamhost seems to do pretty good speeds for the smallest price tag.
I was a bit reluctant about DreamHost's speed as they don't seem to have a built-in caching system and are also missing a couple of other features. However, as you can see in the table above, their speed performance was very good during our tests.
So check out DreamHost if speed is an important factor for you.
Is DreamHost's Uptime Good?
Some hosting providers have constant interruptions and their availability (uptime) suffers. As you can imagine, this can be a big issue for hosting-dependant projects like online stores or digital marketing agencies. On top of that, Google and other search engines won't treat you too favorably.
In light of this, I constantly monitor hosting providers' uptime. Let me share DreamHost's with you.
| | 2019(Percentage) | 2020(Percentage) |
| --- | --- | --- |
| Kinsta (3 months test) | No data | 100 |
| Cloudways (3 months test) | No data | 100 |
| DreamHost | 100 | 99.99 |
| A2 Hosting | 99.93 | 99.99 |
| WP Engine | No data | 99.99 |
| GreenGeeks (3 months test) | No data | 99.98 |
| SiteGround | 99.98 | 99.97 |
| Bluehost | 99.98 | 99.96 |
| HostGator | 99.94 | 99.91 |
| GoDaddy | 99.97 | 99.90 |
| InMotion | 99.97 | 99.73 |
| Hostinger | 99.62 | 99.48 |
| iPage | 99.66 | 98.45 |
To monitor uptime I use StatusCake, a tool that checks each website every 5 minutes.
DreamHost uptime results are astonishing, for the last 12 months they have had 99.99% uptime. Almost no other provider, at this level, can provide these results.
DreamHost Review: Do I Recommend It?
Yes, I do recommend DreamHost.
This hosting provider can be a good option for many. Fair prices, solid support and a very generous unlimited policy (for storage and bandwidth) will be remarkably appealing perks for many.
Additionally, their performance is one of the best I've tried, meaning that your project (even big sites) will be safely hosted at DreamHost.
Be aware however, that if you are looking for professional features like staging areas, integrated caching and pre-installed Git repositories, DreamHost may fall short. Also, it's not ideal if your traffic comes mainly from outside North America.
> Try DreamHost for 97 days without any risk
I hope I answered all your questions about DreamHost in this review.

This Review is written by Joseph Garcia as featured in websitetooltester.com