Nike is one of the premium brands when it comes to foot wear. Here is a list of Nike non slip shoes that are available in the market today. Like all Nike shoes, these are designed to provide comfort along with style. A lot of people need good quality nike non-slip shoes for work. Even though we don't take much notice, people working in restaurants, cafe's, catering, hairdressing, all sales people at retail stores or doctors and nurses in a hospital are always standing or walking all day long in order to do their job. This means that they spend long hours on their feet and it is of immense value for them to have good comfortable shoes to keep standing and walking all day.
Top 5 Best Nike Non Slip Shoes for Work
Brands like Nike understands that many professionals can benefit from designer shoes with non-slip soles for work, so they have launched a range of Nike non-slip shoes for you to try:
1. Nike Non Slip Shoes – Tanjun – Men & Women's Athletic Running Shoe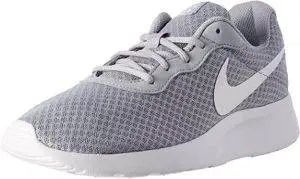 First on the list is the Nike Tanjun shoe. The name of the shoe is taken from the Japanese language which means simplicity.
Design of the shoe: This is a typical streamline shoe design. Providing comfort and also gives a modern day look to the person wearing it for work. The top comes in a wide range of color choices and the sole comes in 2 choices of black and white.
Top cover of the shoe: The Top cover of the shoe is made of a breathable fabric which allows ventilation for your feet. So you don't have to worry about any bad odors at the end of the day. You can also easily clean the shoe, just get a wet cloth and wipe it clean.

Mid-sole: The mid-sole of the shoe are padded using EVA foam. This reduces the strain on your feet from standing or walking all day long.

Main sole: The bottom sole of the shoe is made of rubber. This gives another level of absorption and reduces pressure on your feet when walking. Also if there is a liquid spill in your work place, you can be less worried about slipping. The rubber sole of the shoe will give you better grip than a normal shoe but you definitely need to work with care.
2

. Nike Non Slip Shoes – Air Force 1 – Low Sneakers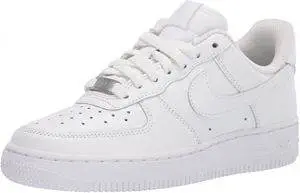 Next on the list of Nike non-slip shoes is the Nike Air Force 1. This is a very popular choice with the restaurant workers. From the design to the comfort level it provides, every feature of the shoe is outstanding. Critics say that this design of shoe has defined the shoe culture from the day it has entered the market.

Design of the shoe: This shoe was first introduced for the basketball players and this Nike non-slip shoe was designed for the polished slippery basket ball floors. It comes in a low cut stream line design.

Top Cover of the shoe: The cover of the shoe is made of premium full grain leather and is white in color. The leather makes it so very easy to clean and there are vent holes at the front and sides to keep your feet cool. The top is stitched to the sole, so you can expect high durability and life span from this shoe.
Mid sole:
The thick rubber midsole of the shoe are designed with the Nike Air unit for the cushioning effect and create a signature AF1 silhouette.
Main sole:
The main sole of the shoe is made of rubber. This rubber sole is designed to maximise grip and minimise slip on any floor.
Nike Air cushioning:
The Nike Air cushioning makes this pair of shoes very light, this allows easy movement and you will feel like you are not wearing any shoes at all.
3. Nike Non Slip Shoes Roshe One – Running Shoes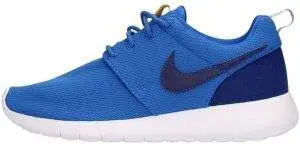 Design of the shoe: It comes in a minimalist design, so if you are conscious about fashion and looking smart then this might be the right fit for you. Not only that it looks cool but it also gives maximum comfort for your feet. The shoe comes in blue, black, dark grey, more than 10 different colors and combinations to choose from.
Top cover of the shoe: The cover is made of fabric allowing your feet to breathe easy and keep working for long hours without any discomfort. The fabric is also easy to clean by design.

Mid sole: The interior of the shoe comes with a foam mid sole. This allows the feet to feel comfortable while walking or standing and also protects your feet from the impact of running.
Cushioned collar: Nike believes that having a cushioned collar will make it more comfortable around your ankles to keep wearing this shoe for long hours.
Main sole: The main sole of the shoe is made of rubber. It makes the shoe slip resistant on all kinds of surfaces by design. As all the shoes we have highlighted here, this is a reasonable combination of fashion and function.
4. Nike Air Monarch IV – Men's Cross Trainer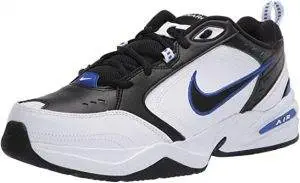 Next on the list is the Nike Air Monarch IV Cross Trainer which is also ideal if you are looking for a Nike non slip shoe for work. It is a durable pair of shoes which not only provides comfort for a whole day of work but also ads a bit of style for anyone who is wearing them.
Design of the shoe:
The design of the shoe is very manly and bulky. Comes in more than 10 different color designs.
Top Cover of the shoe:
The top cover of the shoe is made of leather, making it highly durable and easy to clean.
Mid sole:
The mid sole of the shoe is made of Phylon to give you long hours of comfort.
Main sole:
The main sole of the shoe is a full length Air-sole unit, which gives further cushioning to the feet and making the shoe lighter regardless of the looks. Finished with a bottom layer made of rubber gives this shoe traction on any surface.
Other things to consider when shopping for

Nike Non Slip Shoes

Now that we have discussed about some of the best Nike non slip shoes, we would also like to highlight some of the basic elements that you should consider when buying your next pair of shoes.

1. Size of the shoe
Size is the first most important element that you must figure out about any shoe brand. Even the best comfort technologies would go in vain if the shoe is not your perfect size, wearing shoes that are too tight will only lead to discomfort. You should always check the size by wearing it in person before buying. While checking the shoe fit, it is advised that you leave a quarter- to a half-inch of space between your longest toe and the shoe.
2. Water resistance:
It is important to consider if you need shoes that are water resistant and if the shoe that you are choosing is able to resist water. Not every shoe and material acts the same way.
3. Oil-resistance:
Depending on your use case scenario, you might need shoes that are oil resistant. If this is the case, then check with manufacturer.
4. Easy to clean:
I think we would all prefer to buy shoes that are easy to clean even with a wet cloth. Mostly the leather shoes and even some treated fabrics are easy to clean by design.

We hope this article about Nike non slip shoes helped you find a good pair of shoes for work. Click here if you like to read about a large corsair mouse pad review.